Moja witryna
the blog contains information about what hardware ldnget up to and what we find inspiring.
hardstyle
THE MARTINEZ BROTHERS SEEN ROCKING THE HARDWARE LDN SUNGLASSES, WHILE THEY PLAY AT PARADISE VILLA PARTY IN IBIZA!!

IF YOU DONT ALREADY KNOW THESE BABES!! CHECK THE LINK BELOW TO SEE THEM IN ACTION.
THERE HOT ENOUGH AND TALENTED ENOUGH TO MAKE ANY GIRL SCREAM!!!


DESIGNER & FOUNDER OF HARDWARE LDN



"Her entrepreneurial spirit, passion and originality has made her recognisably a future leader in her field, and as such – alongside the likes of photographer Humza Deas, chef Michael Vottagio and stylist Violetta Kassapi (among many others) – she jumped at the chance to become an ambassador for Supra's Always On The Run campaign."
QUOTE ROBERT FOSTER (VICE MAGAZINE)





HARDWARE LDN INSPIRATION POST.

Alexander McQueen's Exhibition has broken the Victoria & Albert Museum's attendance records with over 480.000 visitors in 5 months.

This Incredible show called ''Savage Beauty" was already fully booked from the very first week and had to remain open all night for the final two weeks due to the unstoppable affluence of interested people.

The Exhibition has been popular, not only for fashion industry professionals but it has been considered one of the most viewed shows of all time. Not only to the relevance of the designer for the fashion industry himself, but also due to the unique pieces exposed at the show, including a skirt made from plywood and a dress of razor clams.

"All the time I knew Lee (Alexander MCQ nickname), I don't think he wore anything worth more than £30 , ever.''
Ex- boyfriend Andrew Groves



---
Powered by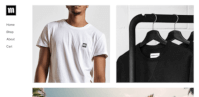 Create your own unique website with customizable templates.